TOKYO, Feb. 1, 2021 –All Nippon Airways (ANA), Japan's largest and 5-star airline for eight consecutive years, is furthering its innovation in autonomous technologies by holding a series of tests for a prototype driverless bus at Tokyo Haneda Airport. The latest in a series of extensive trials, the tests will be the first airline in Japan to use an autonomous vehicle to transport airport employees. The bus forms a central component of ANA's vision for the "Simple & Smart" airport of the future which will be achieved through the widespread application of sustainable autonomous technology.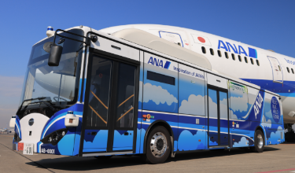 "At ANA, we are constantly looking for ways to harness the latest technology to enhance operations and efficiency," said Masaki Yokai, Senior Vice President of ANA. "In addition to marking a significant step forward for airports, fully electric autonomous buses will result in fewer emissions and decreased carbon footprints at airports. We are optimistic that these trials will give us the information we need to continue improving these technologies and will allow ANA to maintain its leadership in autonomous innovation."
The tests will take place from February 1-12, with up to 57 employees being transported at any one time. In addition to developing these advanced buses, ANA has previously tested autonomous technology at Kyushu Saga Airport. ANA is conducting these latest trials in collaboration with Softbank's BOLDLY mobility initiative, Advanced Smart Mobility and BYD Japan. The tests will be limited to the restricted area of Haneda Airport where aircraft and cargo vehicles are located. If these trials are successful, ANA aims to implement driverless bus technology at the airport by 2025.
The first round of testing was conducted in February 2018, with subsequent tests during Q1 of 2019 and 2020 to further refine the technology. During testing, the bus will host an advanced control system that will make it possible for dispatchers to monitor progress in real time and take control when needed. Because safety is the top priority, ANA is holding the bus to the highest performance standards, and the tests are specifically designed to replicate common real-world scenarios. The system provides constant real time feedback that the dispatcher can use to evaluate the status of the vehicle at all times. In addition to helping perfect the technology behind the autonomous buses, the tests will help developers better understand how they can be implemented at airports for maximum efficiency.
In addition to offering enhanced convenience, the bus will also be powered by electricity to make it more environmentally friendly. This autonomous bus is the latest example of how ANA is working to remain at the forefront of technological innovation. By easing the workload of Haneda employees, ANA aims to create more efficient service for those travelling through the airport in the future.
Contact:ANA Corporate Communications, TEL +81-3-6735-1111, publicrelations@ana.co.jp
About ANA
Following the "Inspiration of Japan" high quality of service, ANA has been awarded the respected 5-Star rating every year since 2013 from SKYTRAX. ANA is the only Japanese airline to win this prestigious designation seven years in a row. Additionally, ANA has been recognized by Air Transport World as "Airline of the Year" three times in the past 10 years – 2007, 2013 and 2018, becoming one of the few airlines winning this prestigious award for multiple times.

ANA was founded in 1952 with two helicopters and has become the largest airline in Japan, as well as one of the most significant airlines in Asia, operating 82 international routes and 118 domestic routes. ANA offers a unique dual hub model which enables passengers to travel to Tokyo and connect through the two airports in the metropolitan Tokyo, NARITA and HANEDA, to various destinations throughout Japan, and also offers same day connections between various North American, Asian and Chinese cities.

ANA has been a member of Star Alliance since 1999 and has joint venture partnerships with United Airlines, Lufthansa German Airlines, Swiss International Airlines and Austrian Airlines.

In addition to the full service and award-winning record of ANA, the ANA Group's subsidiary Peach Aviation Limited is the leading LCC in Japan, and has expanded following the integration of Vanilla Air Inc. in late 2019. The ANA Group carried 54.4 million passengers in FY2018, has approximately 43,000 employees and a fleet of 260 aircraft. ANA is a proud launch customer and the biggest operator of the Boeing 787 Dreamliner.

For more information, please refer to the following link.
https://www.ana.co.jp/group/en/