– JAL will begin independent trials with three industry leading health credential apps in an aim to implement standardized digital health checks on the carrier`s international flights
– CommonPass trials to be conducted on JAL`s Haneda – Honolulu route on April 2 and on its Narita – Singapore route on April 5
– JAL is fast-tracking trials to prepare for early adoption of digital health credential apps for a safe and seamless travel experience
Apr 2, 2021 – Japan Airlines (JAL) announced today that it will begin participating in trials with three industry leading digital health credential apps – CommonPass, VeriFLY, and IATA Travel Pass – as it moves toward plans for adoption on international flights.
A digital health credential app is a dedicated mobile platform to store information, such as displaying COVID-19 test results, in accordance with entry requirements at the applicable country of destination in a safe and secure manner during the customer's international journey.1 JAL will continue to work with the relevant organizations to trial the apps, with the aim of resuming air travel with greater safety and peace of mind on international flights.
Purpose of Trials
– Introduce and expand worldwide the health credential platforms, which can display information on a customer's digital device, including COVID-19 test results issued by medical institutions, and other entry requirement information for each destination
– Achieve a contactless and seamless check-in process with health credential apps (i.e. Self Check-in)
– Expand applicable situations, including clearing health quarantine processes with the usage of health credential platforms
The JAL Group will continue to adopt and implement key safety measures, and the airline fully recognizes the need to restore public confidence in air travel.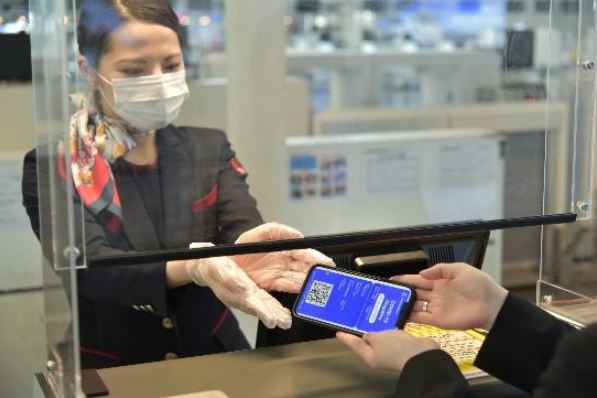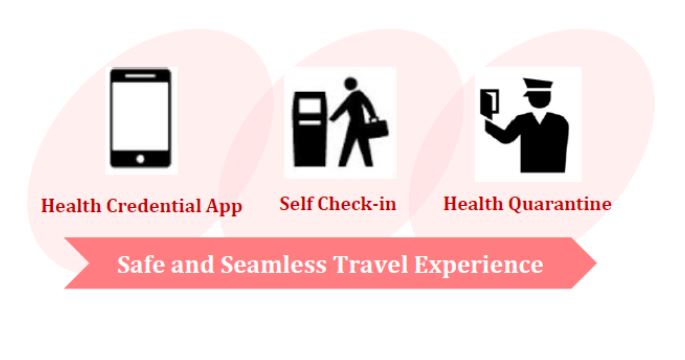 【Overview of Industry Leading Digital Health Credential Apps】
CommonPass
Initiated by The Commons Project and The World Economic Forum. CommonPass validates COVID-19 test results issued by medical institutions, meeting the applicable country's entry requirements on a digital device.
【Overview of Trial】
1. April 2 – JL074 (Departs Haneda 21:00 and Arrives Honolulu 9:30) 2
2. April 5 – JL711 (Departs Narita 17:55 and Arrives Singapore 00:20 next day)
The trial will confirm the function of sending COVID-19 test results from Toho University Haneda Airport Terminal 3 Clinic (an approved COVID-19 testing facility by the State of Hawaii) to the CommonPass app.
VeriFLY
Application developed by Daon, a software company providing identity assurance software by biometric authentication. VeriFLY is already in practical use for select U.S. routes. Customers can view/register/manage their own COVID-19 test results and other necessary documents required by the country of destination, prior to their journey. By reviewing the registered information, VeriFLY will display a ready to travel status, which enables the check-in process to become seamless.

【Future Milestones】
The carrier plans to implement VeriFLY for JAL-operated flights on Japan = North America routes in April 2021. Official launch will be advised at a later date.
IATA Travel Pass
The IATA Travel Pass will help passengers easily and securely manage their travel in line with government requirements for COVID-19 tests or vaccines. The Travel Pass consists of four modules – a global registry of health requirements, a global registry of testing/vaccination centers, a lab app to securely share test and vaccination certificates with passengers, and a contactless travel app which enables passengers to create a digital passport and manage their travel documentation digitally. Travelers remain in control of their data with their privacy protected as the IATA Travel pass does not store any data centrally.

【Future Milestones】
JAL to trial the service on select international flights in May 2021.
The trial will confirm a) the customer's identity by passport data, b) function to send COVID-19 test results from medical institutions, c) search for entry requirements of destination, and d) confirm the process of information verification at the airport counter.
Among the three health credential apps, CommonPass and the IATA Travel Pass aim to become the industry standard for full implementation on a global scale. VeriFLY is in practical use in the U.S., which allows the introduction of the platform on JAL international flights to/from the country. By collaborating with various health credential platforms, JAL will strive to provide a safe and secure travel experience for those with essential travel needs today.
Note 1 – Airlines do not retain personal information data. The data is securely managed between the customer and each health credential platform under national laws and user license.
Note 2 – Hawaii Pre-Travel Testing Program (starting from March 26) will be conducted for this route. This program allows customers to bypass the 10-day mandatory quarantine by having a negative test result prior to departure.
URL: https://www.jal.co.jp/jp/en/info/2021/inter/210315/
Digital Health Credential App Images