"Origami", a modeling art work that is a traditional Japanese culture created using paper.
A completely new smartphone GripStand "beak" inspired by such origami technology has been launched by Kickstarter with many supporters in Japanese crowdfunding.
Arimoto Development Inc. (Kyoto, CEO: Masashi Arimoto) has succeeded in generating over 8 million yen in initial crowdfunding (*1) in Japan through the launch of the "grip stand". To offer this to a wider audience, "beak" will be available via our Kickstarter campaign.
By attaching it to your phone, you can use it to prevent accidental drops while on the go, or use it as a stand staying still. It can also be attachedt to any iron plate, and you can also attach it to mirrors and tiles using the adhesive attachment.
We have developed an unprecedented product tby reducing the weight and size to only 23g (*2) while being multifunctional.
(*1 April 19th to June 18th, 2021)
(*2 Doesn't include attachment.)
< KICKSTARTER >
Date: June 22nd – July 21st, 2021
● Function 1: Non-slip ring
● Function 2: Stand
[ Our goals for beak ]
Aiming for the perfect grip –
"beak" is designed to prevent damage due to dropping, protect your important data, and make your smartphone easier to use. On top of the being the reliable stand that you would expect, we wanted beak to offer unsurpassed grip performance for your peace of mind.
[ Key Features ]
A perfect fit for your hands
Stable, dependable stand
Striking, minimalist design
Lightweight
[ Taking on 10 jobs in one ]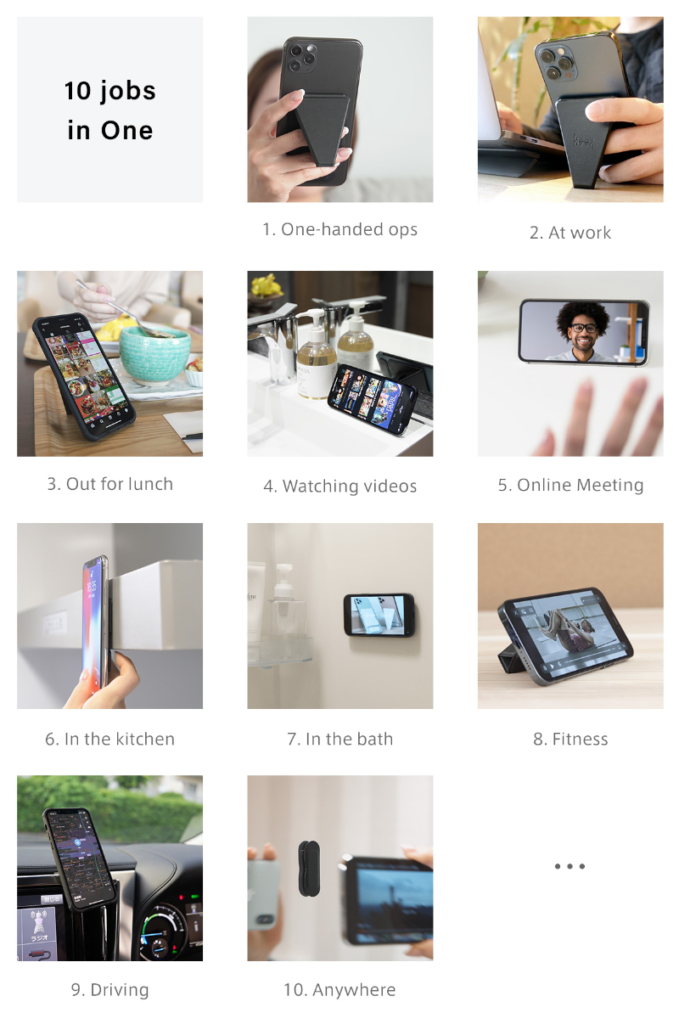 1 ~ One-handed operation
With a stable grip, you can easily type and operate your phone one-handed without worrying about dropping it.
2 ~ At work
Place it upright next to your computer to have another screen easily in view and simply accessible
3 ~ Out for lunch
Set iit vertically on the table to browse the web, check news, and look at social media.
4 ~ Watching videos
Perfect for setting up your phone to relax and watch Netflix, YouTube, Hulu, Amazon Prime Video, and others.
5 ~ Online Meetings
Use your phone as a screen for meetings with communication apps such as Zoom, Teams, Messenger, LINE, and Skype.
6 ~ In the kitchen
Using the magnetic base, keep your phone and your recipe right in front of you.
7 ~ In the bath
Stick it on the wall of the bathroom with the built-in magnet, and use the wall-mounted TV for a relaxing time.
8 ~ Fitness
Have your own personal trainer in front of you by setting your phone up to be easily viewed while using fitness apps.
9 ~ Driving
Always have a place for your phone by pairing beak with the in-vehicle holder (available separately), and use your phone to guide your way.
10 ~ Anywhere you need it
With the adhesive pad, you can attach it to mirrors, walls, glass, tiles, etc. Anywhere!.
We have already received great feedback!
I can't wait! / I fell in love at first sight! / That's a great idea. / I'm looking forward to it! / It looks easy to use and the design is cute. / I want it soon! / The design is also cool / I was amazed that it can be used as a stand despite being only 5mm thick. / I want this! / All the functions I wanted are there! / Ring + stand, and I was surprised at all the places where it can be attached. / It would be nice to be able to replace my currently stand! / It's a cute design that looks like a beak. I like the fact that it can be folded and stored so smartly.
< KICKSTARTER >
Date: June 22nd – July 21st, 2021