BANDAI NAMCO Group announces that holds an on-line public solicitation to participate in the "Gundam Open Innovation" today, a new program of the sustainable GUNDAM UNIVERSAL CENTURY DEVELOPMENT ACTION (GUDA); which is a cross-group project initiated and has evolved our IP (Intellectual Property) strategy utilizing Mobile Suit Gundam. This on-line public solicitation will be made today, July 15, 2021 (Thursday), on YouTube Gundam channel (https://youtu.be/lLJGOxAfKpY) from 15:00.

In addition, on Tuesday, July 20, 2021, we will be holding an on-line presentation aimed at companies, organizations and individuals considering applying to participate in the program.
Gundam Open Innovation aims to provide fresh interpretations of the Universal Century in the real world in which we live and attempts to realize future hopes and dreams by combining Gundam together with ideas and technologies for the future to help solve social issues faced by people in the real world.
We are searching broadly for partners who are experts, innovators, research organizations, pioneering companies in variety of fields who are determined to realize dreams and hopes by combining Gundam and innovative ideas, technologies, etc. related to sustainable themes/domains that could lead to future society. We look forward to welcoming you to our project.
Gundam Open Innovation On-line Presentation
Contents: Presentation on Gundam Open Innovation, Q&A etc.
Host: Bandai Namco Group
Date/time: Tuesday, July 20, 2021 15:00 to 16:00
Viewing method: Peatix
Event tickets (free) are available from https://peatix.com/event/1996108/view
*Any interested party who is unable to attend the on-line presentation may still apply to the "Gundam Open Innovation".
*Please, be advised that the information provided hereinabove are accurate as of the date of the announcement and subject to change without notice after the announcement.
*The names of companies, service, products etc. are trademarks or registered trademarks of the respective companies.
[Mobile Suit Gundam] rights notation:©Sotsu/Sunrise
GUNDAM OPEN INOVATION reference material
■ What is "Gundam Project?
Bandai Namco Group is deploying IP centered strategy aimed at to maximizing IP value by utilizing the world view and characteristics of IP to provide optimal products and services to the optimal region at the optimal time. This year, the Gundam Project was launched to let the IP centered strategy of the Mobile Suit Gundam series to evolve.
Sotsu Co., Ltd. joined the Group in 2020, which made it possible to unify the value chain of Mobile Suit Gundam series business and enabled effective and speedy deployment of the Gundam Global Strategy. In order to establish a system a to plan and execute an effective and speedy Gundam Strategy by the Group as a whole, the Gundam Project, a cross-group project, was formulated, which is presided over by the Chief Gundam Officer*.
From now onward, having the Gundam Project at the core, we aim to strengthen the Group business through Gundam as well as strengthening collaborations with entities outside the Group, thereby innovate resources within the Group, enhance IP value of Mobile Suit Gundam and let it grow to become one of the largest IP's in the world.

*Chief Gundam Officer was created in 2003 to administer the Gundam business of Bandai Namco Group, This position is currently held by FUJIWARA Koji, corporate managing director of Bandai Namco Entertainment, Inc.
■ GUNDAM UNIVERSAL CENTURY DEVELOPMENT ACTION, a sustainable activity
At Bandai Namco Group, in addition to deploying variety of cross-group businesses, including Mobile Suite Gundam products and services, we are promoting GUNDAM UNIVERSLA CENTURY DEVELOPMENT ACTION (GUDA), a sustainable activity. Under the theme of "Toward the Coming 'Real Universal Century'", we will take various actions for future children by considering overpopulation and global environmental issues on earth that "Mobile Suit Gundam" face in the fictional era as issues our present-day society is facing.
・GUNDAM UNIVERSAL CENTURY DEVELOPMENT ACTION Website
https://www.bandainamco.co.jp/guda/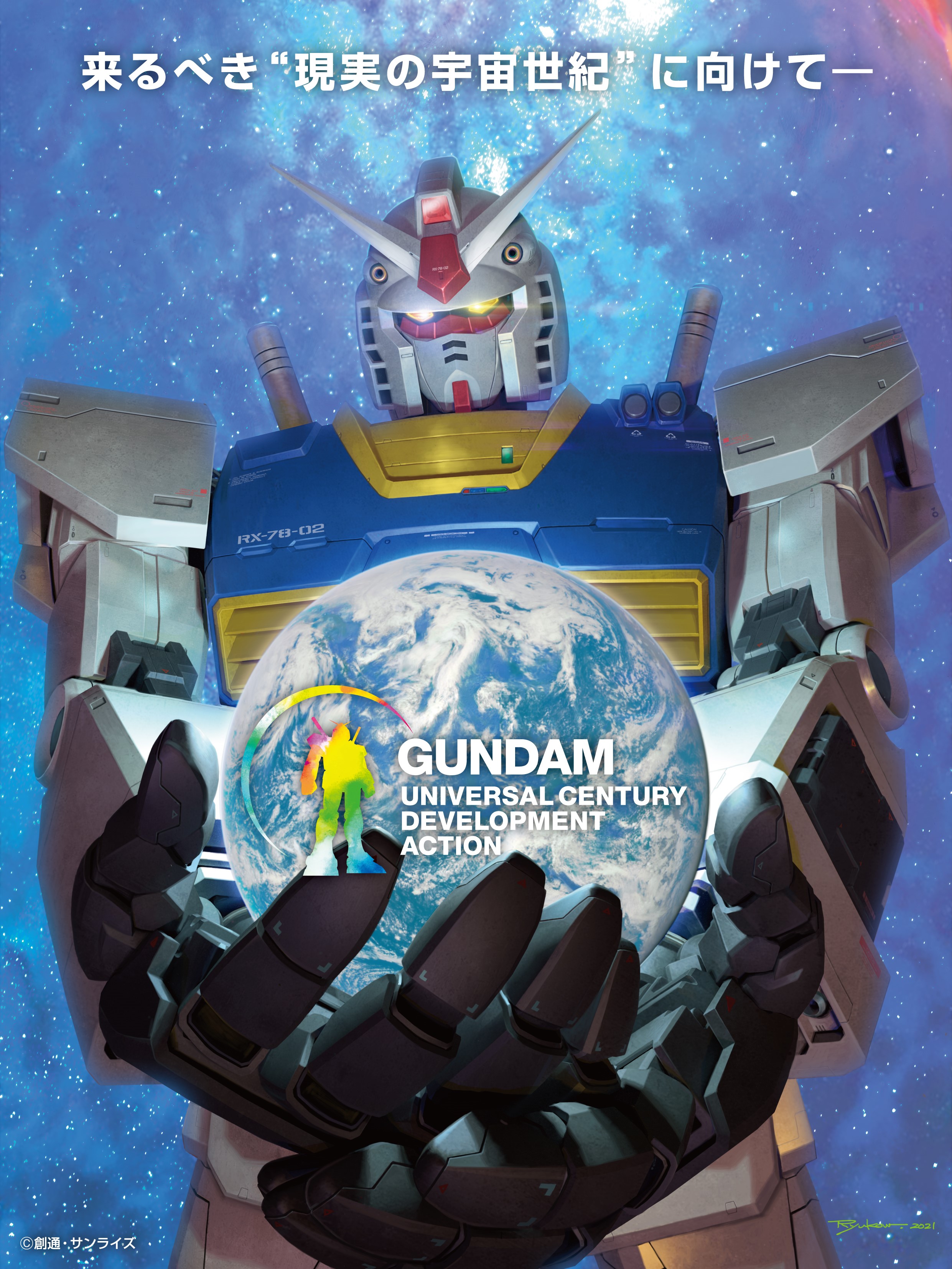 ■ Gundam Open Innovation
Gundam Open Innovation is a new program that aims to provide fresh interpretations of the Universal Century in the real world in which we live and attempts to realize future hopes and dreams by combining Gundam together with ideas and technologies for the future. We will be soliciting experts, innovators, research organizations, pioneering companies and others in variety of fields, who are capable of innovating human being and formulating future society that people will desire based on "Universal Century" to participate in this program.

・ Gundam Open Innovation website
https://www.bandainamco.co.jp/guda/goi/