Nihonsakari Co., Ltd. (Nishinomiya, Hyogo, Japan – President & Representative Director Taro Morimoto) is a Japanese sake brewery founded in 1889. Nihonsakari has started the sales of the new brand "Sakari" in USA, Asian countries, Europe and Oceania from November, 2021. Sakari sake has been created under the concept of connecting person to person and humans to nature, and its main theme is "joy".

Nihonsakari initiated the new brand design development in 2019 since most of our sake bottles sold in foreign countries used to have only Japanese descriptions and "Nihonsakari" brand logo consists only from ideograms, which are quite difficult (almost impossible) for most of foreign consumers to recognize and remember. We decided to collaborate with a creative agency, Sublimio of Italy (where there are various types of enjoyable food-and-drink culture) in order to incorporate their (and western) points of view for creating a new global brand which can be smoothly digested by foreign consumers without losing our Japanese identity.


New Brand Logo Design

In the millenary world of sake, Sakari is a barely 130-year-old startup. Its young founders wanted to build the future of Japanese society through sake, with study and collaboration. The same spirit still moves us today. Sakari's five founders are now remembered in our logo: five sake glasses that, meeting in a toast, create a Sakura flower, which is the symbol flower for both Nishinomiya and Japan.
Label Design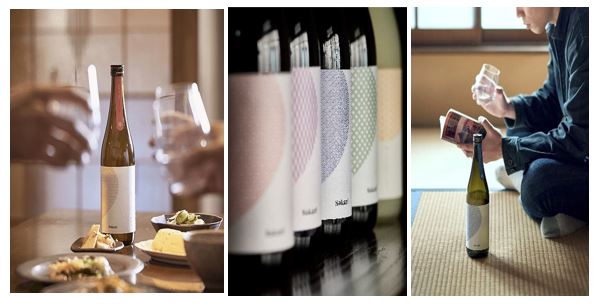 Japanese traditional patterns and colors are used for Sakari's product label. The visual designs are the results from the combination of five traditional patterns and colors ("seigaiha x koiai-iro", "yagasuri x hashita-iro", "shippo x wakatake-iro", "kikko-hanabishi x karakurenai-iro" and "asanoha x kihada-iro"). Each pattern has its own meanings like 'peaceful', 'harmony', 'longevity' or 'grace'. Furthermore, we carefully paid attention to the white space, curved lines, size of English letters (not too big) and the quality of paper (washi) and realized Sakari original design can get along with the contemporary life scene in various countries.

Product Overview
All of Sakari drinks are vegetarian, gluten-free and preservatives-free.
Sales Area :USA, Canada, UK, Italy, Spain, Hong Kong, China, Japan, Singapore, New Zealand

・Sakari no.11 Junmai Daiginjo Sake 720ml/bottle
Sometimes more can be achieved with less. It seems to be the case with Sakari no. 11: by polishing off half of the rice grain, the true and rich taste of rice can come through.
ABV:15% Rice Polishing:50% Serve:Cold
・Sakari no.12 Daiginjo Sake 720ml/bottle
Joy can be found in the most unexpected places. You might find it in the elegant and fruity aroma of Sakari no.12: an award-winning sake made from Japanese rice, with the purest water from mount Rokkō.
ABV:16% Rice Polishing:50% Serve:Cold

・Sakari no.13 Junmai Ginjo Sake 720ml/bottle
You will be surprised by how fruity Sakari no.13 can taste. While – of course – it contains no fruit, the fermentation process lets it develop all kinds of natural aromas. A joy for your palate.
ABV:15% Rice Polishing:55% Serve:Cold

・Sakari no.14 Junmai Sake 720ml/bottle
Wherever your culinary adventures lead you, Sakari no. 14 will prove a trusted companion. Its simple and smooth taste makes it easy to pair and enjoy with any kind of food.
ABV:13% Rice Polishing:75% Serve:Room Temp./Cold

・Sakari no.21 Yuzu Sake 710ml/bottle
It takes the whole yuzu fruit – flesh, seeds and peel – to give this Yuzu Sake its rich and fresh taste. We only use yuzu from the south of Japan: a taste of our land in your glass.
ABV:8% Serve:Cold / On the Rock
About Nihonsakari
Nihonsakari was established in 1889 (Meiji 22) by those interested in starting a business for the development of Nishinomiya and its industries and located in "Nadagogo", one of the most famous and important sake brewing areas in Japan. Nihonsakari started brewing sake with the brand name of "Nihonsakari" in 1897 and was selected as the purveyor of sake "Souhana" for the Imperial Household in Japan in 1913.

Sakari Websitehttps://sakarisake.com/
Sakari Instagramhttps://www.instagram.com/sakarisake/
Awards
・TESCOM INTERNATIONAL WINE AWARDS2021 https://texsom.com/results/
GOLD: "Sakari no.11 Junmai Daiginjo Sake", "Sakari no.12 Daiginjo Sake"
"Sakari no.21 Yuzu Sake"
SILVER: "Sakari no.13 Junmai Ginjo Sake"
・Packaging of the world
https://www.packagingoftheworld.com/2021/07/sakari-sake.html
・Awwwards
We received Honorable Mention from an international web design competition Awwwards.
https://www.awwwards.com/sites/sakari