This app allows you to effortlessly experience "Self-care of Mind and Heart" born from the Zen-inspired Japanese culture.
A Japanese startup Hakali Inc., based in Tokyo, Japan (CEO: Shinichiro Ogawa), has released an English version of their mental and emotional self-care app, "Awarefy." Hakali is moving forward with the global roll-out of Awarefy as a mental health care app developed in Japan.


What is Awarefy?

Awarefy is a mental health care app developed through joint research with Waseda University based on the theoretical concept of ACT (Acceptance and Commitment Therapy), also known as the third generation of cognitive-behavioral therapy.

Awarefy offers features that allow you to "write down" and thus visualize/organize your daily conditions and emotions, voice guides that help you practice meditation and mindfulness, and a recording feature for stress care. The app offers you a convenient way to engage in self-care for your mental health from your smartphone with these features.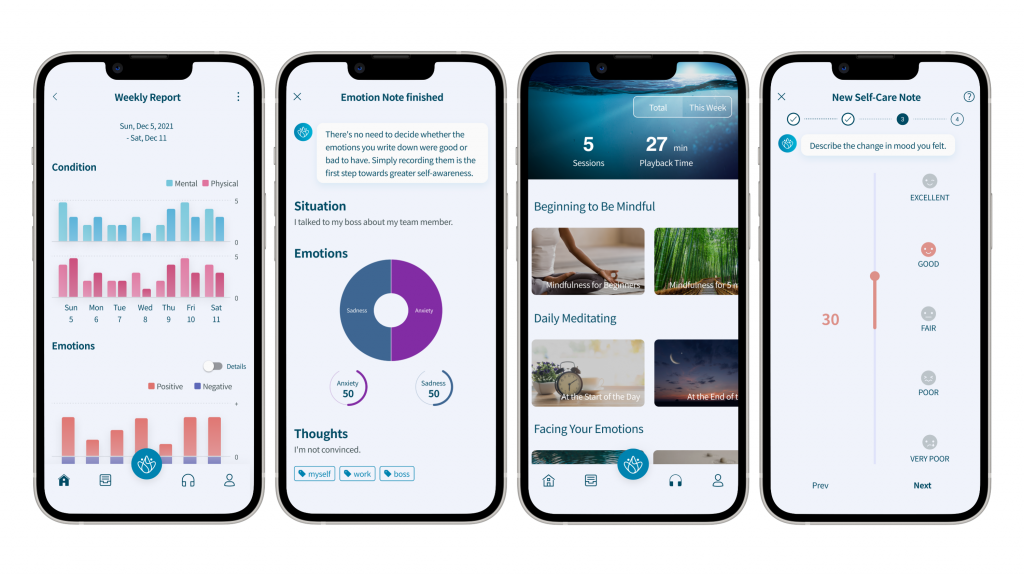 This app is now available on App Store and Google Play Store.
Background to Globalization
Awarefy has served its Japanese users since its launch in May 2020 and surpassed 100,000 downloads by December 2021.
Hakali released the English version of Awarefy as the first step toward global expansion. Hakali is committed to releasing Awarefy in other languages to build a framework for making Awarefy available to everyone worldwide as a mental health care app from Japan.
Mental Health Care App from Japan
ACT (Acceptance and Commitment Therapy),*1 the basis of Awarefy's development, emphasizes "mindfulness" (i.e., awareness of and connection to the present moment) as one of the essential elements.
It is said that the root of mindfulness is in Buddhist Zen. Developed in Japan, where Zen culture permeates daily life, "Awarefy" reflects the Zen concept of "reexamining one's self to become aware of and thus regain the true self" in its evidence-based psychotherapy. The voice guides also include guided meditations by a Zen priest who is also a certified psychiatrist. (The voice guides are not yet available in English but are scheduled for future release.)
Based on this concept, Awarefy will provide "mental and emotional self-care that enhances daily awareness" to people in Japan and worldwide.
*1. ACT (Acceptance and Commitment Therapy): An approach to psychotherapy aimed at "opening up a rich and fulfilled life by being aware of and accepting unpleasant thoughts and feelings just as they are, instead of trying to eliminate them."
More about Awarefy
Awarefy is a smartphone app developed with the concept of "visualizing emotions to deepen the understanding of one's self." Awarefy is now available on App Store and Google Play Store.
We also offer premium plans to support more comprehensive self-care (monthly plan: 5.99 $ / annual plan: 59.99 $).
* Prices are current as of January 13, 2022. Actual prices will vary depending on the app store in each country, so please check with them.
<Specific Examples of Awarefy Features>
record and visualize your daily emotions and conditions;
find stress management and self-care methods that suit you the most;
receive weekly reports to help you identify trends in your thoughts and emotions — even those you were not aware of;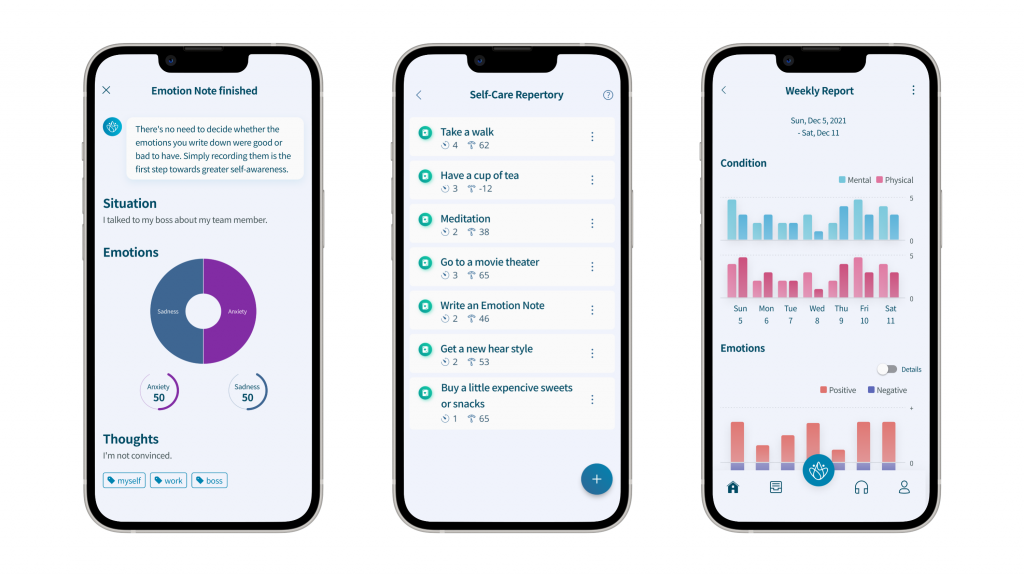 listen to audio guides written and supervised by experts, such as mindfulness instructors;
receive support for your discovery on "what you value most in life" and help you follow through with the discovery in your day-to-day actions;
assess "whether you have a good relationship with yourself" by using the self-relationship measurement feature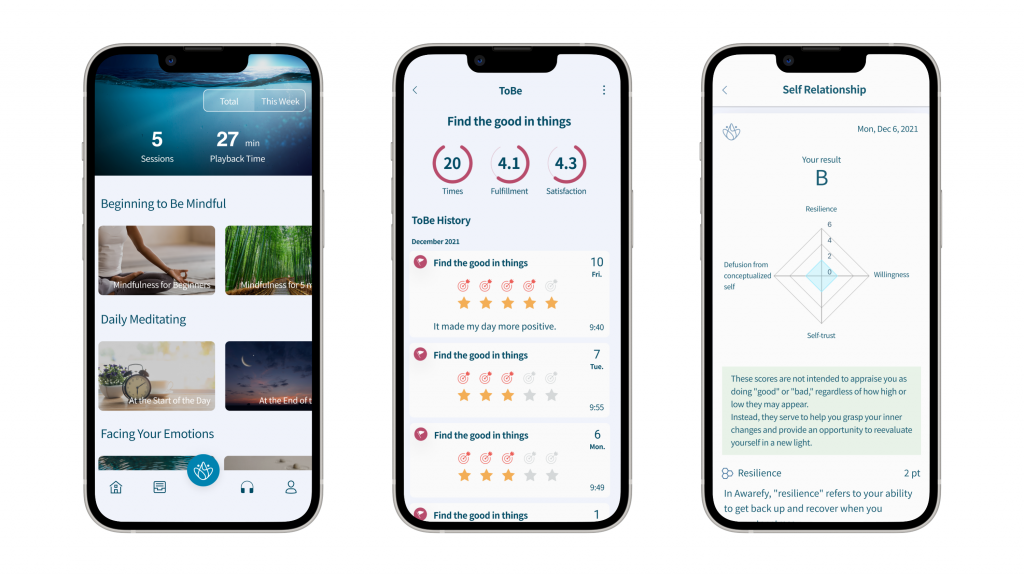 About Hakali Inc.

Hakali's mission is to "realize a digital mental platform that supports mental health," based on which we plan, develop, and operate Awarefy. In the days ahead, we strive to provide value to users through Awarefy by expanding the app's functionality and further engaging in various business expansions.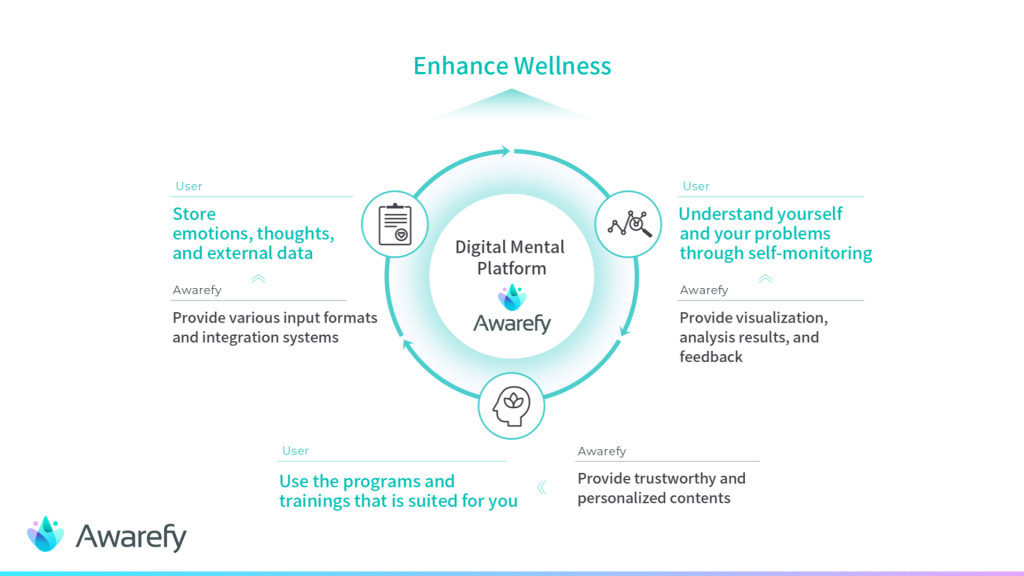 * Hakali also operates a web media, "Neuromind," which contains many academic interview articles by experts, such as clinical psychologists and medical doctors. (Example themes: social anxiety, insomnia, PTSD, and HSP)