AlphaPolis Co., Ltd. (Headquarters: Shibuya, Tokyo; President and CEO: Yusuke Kajimoto) announced that Crunchyroll ( https://www.crunchyroll.com/ ), the largest distribution platform serving more than 200 countries and regions, has begun distributing popular titles from its English-language manga app, Alpha Manga ( https://www.alpha-manga.com/ ).
Crunchyroll and AlphaPolis, the needs of both parties have been met to make this happen!
Alpha Manga" is a manga application released in July 2021 to bring popular manga from AlphaPolis to overseas users. With an eye toward further global expansion, seven popular titles from the app will be distributed in over 200 countries and regions through "Crunchyroll".
Crunchyroll aims to expand Japanese manga content, including the "otherworldly fantasy" genre, and the two companies plan to increase the number of titles distributed in stages in the future.
The first seven titles include the much-talked-about anime adaptations!
The manga titles available on Crunchyroll include "Tsukimichi: Moonlit Fantasy and "Gate: Where the JSDF Fought," as well as "May I Ask for One Final Thing?" and "Re:Monster," two of the most popular titles on Alpha Manga. The first three episodes of each title will be available on Crunchyroll, and the rest will be available on Alpha Manga.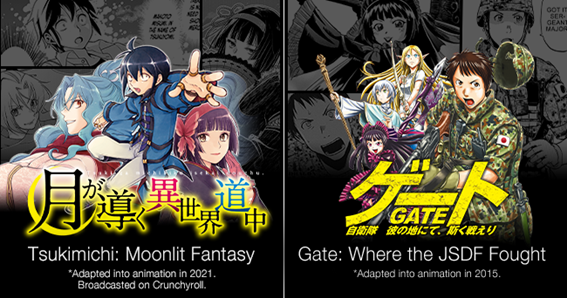 Titles
Tsukimichi: Moonlit Fantasy
*Adapted into animation in 2021.
© Kei Azumi / Kotora Kino / AlphaPolis Co., Ltd.
Gate: Where the JSDF Fought
*Adapted into animation in 2015.
© Takumi Yanai / Satoru Sao / AlphaPolis Co., Ltd.
May I Ask for One Final Thing?
© Nana Otori / Sora Hoonoki / AlphaPolis Co., Ltd.
Re:Monster
© Kogitsune Kanekiru / Haruyoshi Kob. / AlphaPolis Co., Ltd.
A Journey Through Another World ~Raising Kids While Adventuring~
© Shizuru Minazuki / Tomomi Mizuna / AlphaPolis Co., Ltd.
An Observation Log of My Fiancée Who Calls Herself a Villainess
© Shiki / Natsume Hasumi / AlphaPolis Co., Ltd.
Accidentally Summoned (Oops, sorry.)
© Headphonesamurai / Yatoyaniwa / AlphaPolis Co., Ltd.
What is Alpha Manga?
Alpha Manga is an application that allows users to read English versions of original manga serialized on our "AlphaPolis" service.
New manga stories are updated on a weekly or monthly basis. The first three episodes are free, and subsequent episodes can be rented by consuming in-app tickets (the service ends after a certain period of free publication).
What is Crunchyroll?
Crunchyroll connects anime and manga fans across 200+ countries and territories with the content and experiences they love. In addition to free ad-supported and subscription premium content, Crunchyroll serves the anime community across events, theatrical, games, consumer products, collectibles and manga publishing.
Anime fans have access to one of the largest collections of licensed anime through Crunchyroll and translated in multiple languages for viewers worldwide. Viewers can also access simulcasts — top series available immediately after Japanese broadcast.
The Crunchyroll app is available on over 15 platforms, including all gaming consoles.
Crunchyroll, LLC is an independently operated joint ventCorporation. ure between US-based Sony Pictures Entertainment, and Japan's Aniplex, a subsidiary of Sony Music Entertainment (Japan) Inc., both subsidiaries of Tokyo-based Sony Group.
About AlphaPolis Co., Ltd.
Established in 2000. Capital: ¥863,824,400 (as of March 2021).
AlphaPolis Co., Ltd. is a publishing company focusing on the publication of popular works from the Internet. The company manages its AlphaPolis web site, where anyone can freely post or release their own work, including stories, manga comics, and more. A number of these works are continuing to become great hits, including "Nijiiro Hotaru Eternal Summer Vacation" "Gate: Where the JSDF Fought""Tsukimichi: Moonlit Fantasy" and "The Rip-Off Izakaya."
(URL https://www.alphapolis.co.jp/ )