[Tokyo, Japan] TERRADA ART AWARD 2023, Warehouse TERRADA's award to highlight the work of outstanding contemporary artists, will be accepting submissions from November 21st, 2022 (Mon).
Located in Tennoz, Tokyo, Warehouse TERRADA was established in 1950. In addition to our artwork storage service launched in 1975, we have gone on to develop a wide variety of art-related businesses, ranging from artwork conservation, packing, transportation and exhibition services to operating art facilities and supporting young artists in line with our guiding principle of conveying the passion of artists and the intrinsic value of art to future generations. In recent years, the company has been offering services to support the vitalization of the art market through operating art and culture dissemination facilities such as the contemporary art collectors' museum WHAT MUSEUM, the art gallery cafe WHAT CAFE, the art materials lab PIGMENT TOKYO, and TERRADA ART COMPLEX, Japan's largest gallery complex.
TERRADA ART AWARD is a contemporary art award designed to support young artists. To discover artists who can play an active role on the world stage, we have selected a jury with an international perspective and a deep understanding of contemporary art. Applicants will undergo a first-round screening period in which their portfolios will be reviewed. Then, exhibition plans and portfolios will be evaluated during the final-round screening, culminating in selecting five finalists. Each finalist will receive prize money of 3,000,000 yen to produce the actual artworks based on the exhibition plans they submitted in the final-round screening. The finished works will then be unveiled at TERRADA ART AWARD 2023 Finalist Exhibition.
[TERRADA ART AWARD 2021]
The previous award received 1,346 entries from within Japan and overseas, and the works of the five selected finalists (Rikako Kawauchi, Gaёtan Kubo, Ana Scripcariu-Ochiai, Atsuko Mochida and Shota Yamauchi) were presented at the TERRADA ART AWARD 2021 Finalist Exhibition in December 2021.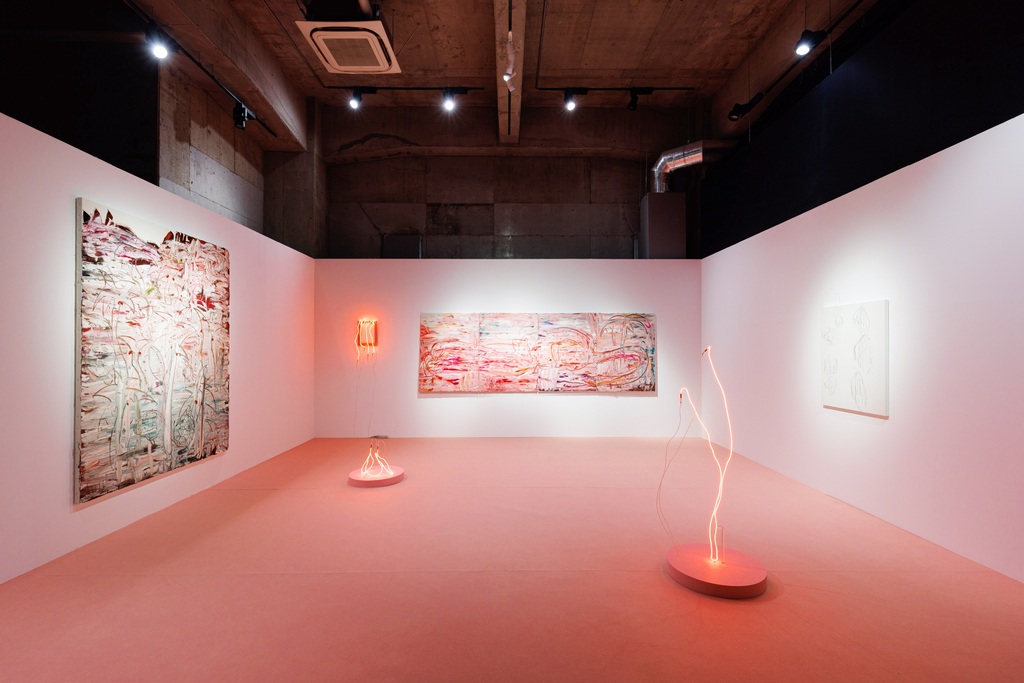 Artwork by Rikako Kawauchi / Photo by Tatsuyuki Tayama
Artwork by Atsuko Mochida (left) Artwork by Shota Yamauchi (right) /
Photo by Haruo Wanibe
Short summery video: https://www.youtube.com/watch?v=c3qF39aAtvQ
[TERRADA ART AWARD 2023 Overview]
Qualifying Activities: Contemporary Art (all forms of media including two-dimensional works such as paintings, photography, three-dimensional works (objects), textiles, videos, digital media art, physical expressions such as performances, sound art or music, etc.)
Prize: Finalists will each receive 3,000,000 yen* along with three additional Supplementary Prizes. Finalists will display their works at one of Warehouse TERRADA's exhibition spaces.
*Production and exhibition expenses for artworks created for the TERRADA ART AWARD 2023 Finalist Exhibition will come out of the prize money.
Supplementary Prizes: 1) Ruinart Blanc de Blancs from MHD Moët Hennessy Diageo K.K. 2) Art supplies worth about 100,000 yen from PIGMENT TOKYO operated by Warehouse TERRADA 3) Two years of free use of the Warehouse TERRADA art storage service
URL:https://www.terradaartaward.com/en
Held by: Warehouse TERRADA
Sponsor: Japan Airlines, MHD Moët Hennessy Diageo K.K.
Operation Support: Fujiwara Haneda LLC
[Jury]
Final Jury
Yukie Kamiya (Art Critic, Independent Curator)
Takahiro Kaneshima (Art Producer & Visiting Professor of Kyoto University of the Arts)
Daito Manabe (Founder of Rhizomatiks, artist, interaction designer, programmer, and DJ)
Yuki Terase (Art Intelligence Global Founding Partner)
Meruro Washida (Director of the Towada Art Center)
Primary Selection Jury
Ryo Ikeshiro (Artist, musician, researcher, Assistant Professor, School of Creative Media, City University of Hong Kong)
Eriko Kimura (Senior Curator of Yokohama Museum of Art)
Shinji Ohmaki (Artist)
Ryutaro Takahashi (Psychiatrist, Art Collector)
Yuu Takehisa (Curator, Artistic Director of Contemporary Art Center, Art Tower Mito)
Reiko Tsubaki (Curator, the Mori Art Museum)
(In alphabetical order)
About Warehouse TERRADA

Company name: Warehouse TERRADA
Representative: President & CEO, Kohei Terada
Address: 2-6-10 Higashi-Shinagawa, Shinagawa-ku, Tokyo 140-0002
Foundation: October 1950
URL: https://www.terrada.co.jp/en
Award Inquiries
TERRADA ART AWARD Office E-MAIL:award@terrada.co.jp