TOKYO, Feb. 25, 2021 – All Nippon Airways (ANA), Japan's largest and 5-Star airline for eight consecutive years, will begin offering its in-flight magazine of ANA Group, "TSUBASA -GLOBAL WINGS-" and other onboard printed publications available on the internet and on the ANA mobile application. Set to begin in April, the transition to digital-only will result in the reduction of approximately 1,540 tons of paper emissions per year.
"ANA has always focused on embracing the latest technology and this transition to digital format will increase flexibility for passengers and further supports our commitment to sustainability," said Hideki Kunugi, Executive Vice President, Customer Experience of ANA. "This is really a win-win for passengers as the move to digital allows us to significantly increase our selection of media while increasing hygiene in lounges and aboard aircraft."
The decision to remove physical copies of TSUBASA -GLOBAL WINGS- and other printed materials not only increases hygiene but it is just one of many recent policies that ANA has implemented to advance its ANA commitment to the UN Sustainable Development Goals. ANA has consistently prioritized the elevation of ESG standards, working to become a responsible partner for sustainability as it improves the travel experience. With society becoming more connected, ANA will continue to innovate by further digitizing products where possible. The design of TSUBASA -GLOBAL WINGS- has changed to make it easier to read on screens, and language accessibility options make content available in Japanese, English, and Chinese, similar to the original paper format. Customers can browse anytime, anywhere, regardless of boarding or not.
In addition to offering a digital version of TSUBASA -GLOBAL WINGS-, ANA will offer passengers digital copies of magazines and newspapers that were previously only available in physical form. Passengers can download digital copies of their favorite magazines on the ANA smartphone application up to 24 hours before scheduled departure, with the content remaining accessible until 24 hours after the scheduled arrival time. The contents are recommended to be downloaded using an internet connection at home or at the airport before flight. With the inclusion of digital access, ANA is expanding its library of newspaper and magazine options to include media from a broader range of languages which will fulfill the requests from variety of passengers.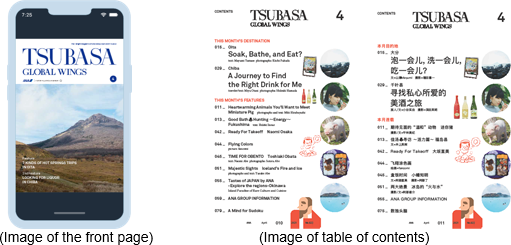 • Move to digital for inflight magazine "TSUBASA -GLOBAL WINGS-" as well as other newspapers and magazines will increase the library of content that passengers can access.
• Decision reduces ANA's CO2 emissions while also increasing hygiene aboard aircraft and in lounges.
• Latest enhancement is another example of ANA continually improving the new ideal experience for customers' travel journey.
TSUBASA -GLOBAL WINGS-
Start Date: April 1,2021 (Japan Time)
Applicable Customers: All customers (with or without booking)
Magazine Service
Start Date: April 1, 2021 (Japan Time)
Applicable Customers: All passengers who have booked ANA-operated flights with ANA flight numbers for both domestic and international flights.
Newspaper Service
Start Date: Scheduled in July, 2021 (Japan Time)
Applicable Customers:
The decision to transition to digital circulation for TSUBASA -GLOBAL WINGS- and other printed materials further demonstrates that ANA is continually looking for ways to improve our customers' travel experience.
Contact:ANA Corporate Communications, TEL +81-3-6735-1111, publicrelations@ana.co.jp
About ANA
Following the "Inspiration of Japan" high quality of service, ANA has been awarded the respected 5-Star rating every year since 2013 from SKYTRAX. ANA is the only Japanese airline to win this prestigious designation eight years in a row. Additionally, ANA has been recognized by Air Transport World as "Airline of the Year" three times in the past 10 years – 2007, 2013 and 2018, becoming one of the few airlines winning this prestigious award for multiple times.

ANA was founded in 1952 with two helicopters and has become the largest airline in Japan, as well as one of the most significant airlines in Asia. ANA offers a unique dual hub model which enables passengers to travel to Tokyo and connect through the two airports in the metropolitan Tokyo, NARITA and HANEDA, to various destinations throughout Japan, and also offers same day connections between various North American, Asian and Chinese cities.

ANA has been a member of Star Alliance since 1999 and has joint venture partnerships with United Airlines, Lufthansa German Airlines, Swiss International Airlines and Austrian Airlines.

In addition to the full service and award-winning record of ANA, the ANA Group's subsidiary Peach Aviation Limited is the leading LCC in Japan, and has expanded following the integration of Vanilla Air Inc. in late 2019. The ANA Group carried 54.4 million passengers in FY2018, has approximately 43,000 employees and a fleet of 260 aircraft. ANA is a proud launch customer and the biggest operator of the Boeing 787 Dreamliner.

For more information, please refer to the following link.
https://www.ana.co.jp/group/en/