Curiosity, inc. is pleased to announce the release of Rememory, a next generation platform service that enables users to shoot, edit, watch, and share volumetric video using LiDAR devices on the App Store.
Rememory is a creative tool that allows you to shoot volumetric video, a new media format, and edit it on AR. At the same time, it is a platform service that allows you to share and publish it to the world.
By capturing records, performances, and everyday discoveries that could only be shot and stored in 2D as 3D images, we can provide a new visual experience. Rememory aims to be a place where anyone can easily create and experience 3D images by making it easy to do everything from filming to publishing with a single iPhone.
In addition to creating and sending out your own content, if your favorite artist has released a volumetric video, you can call it up as a 3D video at home and experience the live performance anywhere and at any time you want.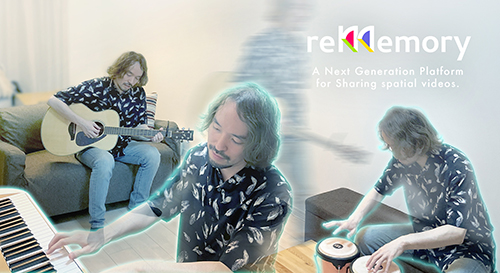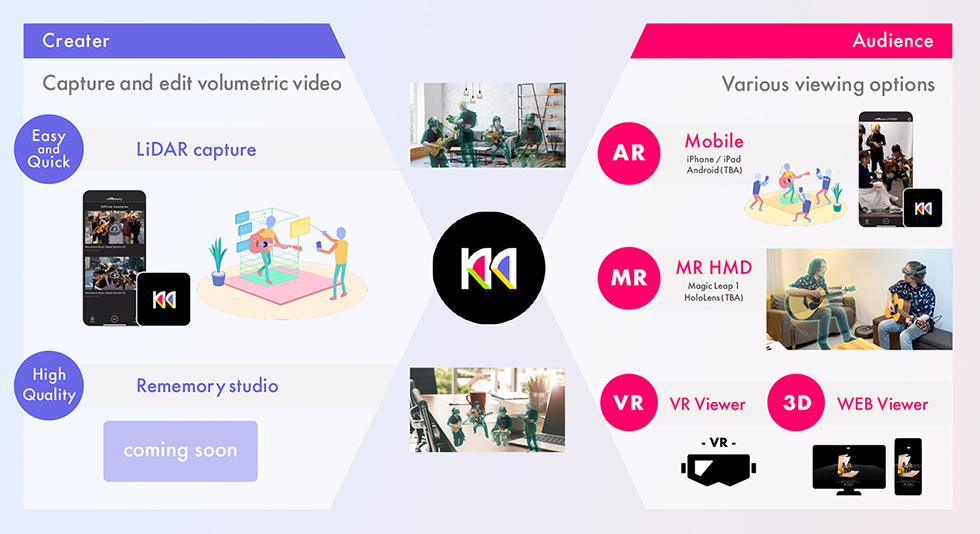 Capturing volumetric video with a LiDAR-equipped device
Rememory allows you to shoot volumetric videos using LiDAR-equipped devices (*2). By clicking the "+" button on the top of the app, you can shoot as if you were taking a photo or video, and share it as it is after it is completed. The app also has a self-timer and metronome functions that are useful for recording.
Edit in AR
[1]3D Cropping
This function allows three-dimensional cropping in the vertical and horizontal directions with the captured volumetric video. This can be used for a variety of purposes, such as erasing unnecessary final objects like chairs or trash cans, or using only the upper body of the subject.
[2]Playback speed adjustment and reverse playback
In addition to playing back at the same speed, you can also play back in reverse or at twice the speed.
[3]Duplicate, move, rotate
You can place multiple copies of yourself that you have taken, or place them anywhere you want.
[4]Scaling up and down
Pinch the editing screen with two fingers to zoom in or out.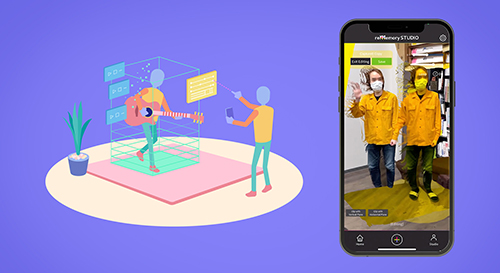 Manage content shot and edited in My Studio
All the content you create is managed in the My Studio section of the app. In addition, you can choose to publish your content in two different ways: "Public", which can be viewed by anyone, and "Private", which can only be viewed by those who know the URL.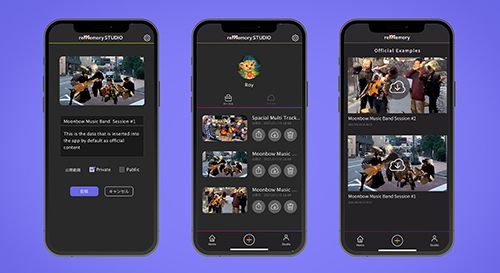 Various viewing options including AR, websites, MR, etc.
The content shared on Rememory can be viewed on a variety of ways, including all ARKit compatible iPhones and iPads, web browsers, and MR headsets.

Volumetric video can be shot with more 2D video.
You can record volumetric video that is displayed in AR when viewing, and 2D video with screen capture. You can capture the video at any angle you want, or combine it with real scenery or people to create your own original video.

Building a studio that can shoot 360-degree omnidirectional volumetric video
For creators, artists, and performers who wish to create higher quality content, we are currently developing a volumetric studio system that can capture even the back and sides of the camera as 3D videos. The content created in this studio will also be available on the Rememory service, so please stay tuned for updates.
Developer's Message
The unprecedented pandemic that suddenly began in 2020 deprived many artists, creators, and performers of the opportunity to present their work. As performances and exhibitions were cancelled one after another and switched to online, I realized that, while video streaming is okay and fun, the experience of gathering in one place and receiving expression with all one's body is irreplaceable. I wondered if there was a way to deliver the enthusiasm, atmosphere, emotions, and various other elements that cannot be packaged in a video. This is where we ended up with a platform service that utilizes volumetric video. With this technology, it is possible to deliver the experience that is happening right in front of your eyes in 3D. It is possible to deliver feelings that could not be conveyed by conventional images and videos. I strongly hope that Rememory will enable us to realize the experiences that could not be delivered or received on that day, in that place.
Takahiro Horikawa CEO, curiosity
Rememory App Overview
・Title Rememory
・Start date of the distribution June 30, 2021
・Download Link https://rememory.jp/download
・Category Entertainment/Camera/SNS
・Price Free
・Language English/Japanese
・Supported Devices iOS 14.0 or later / iPhone 6S or later devices(Some functions are only available for LiDAR-equipped devices.)
・Web https://rememory.jp/
・Copyright ©️2020 curiosity, inc.
YouTube Chanel (Examples, tutorials, etc.):
https://www.youtube.com/channel/UCM3w9ga009tqEq7YximgeDA
< Explanation of terms and supplement >
(*1) Volumetric video
Volumetric video is a technique that captures a three-dimensional space, such as a location or performance. It is attracting attention as a next-generation filming method, as it allows you to freely add placement and direction in virtual spaces such as AR, MR, and VR.
(*2) LiDAR-equipped devices
LiDAR is an abbreviation for Light Detection And Ranging, a remote sensing technology that uses light to determine the position and shape of objects. As of June 2021, it is installed in iPhone 12 Pro/iPhone 12 Pro Max/iPad Pro 4th generation or later.
About curiosity, inc.
Curiosity, inc. is a creative studio in Tokyo, Japan that creates entertainment experiences that fuse the real and the digital using XR and new technologies under the theme of "Immersive Entertainment". https://www.curiosity­-inc.jp/