Delivering a Number of Popular Titles, Including the Original "Tsukimichi: Moonlit Fantasy" Manga
AlphaPolis Co., Ltd. (Headquarters: Shibuya, Tokyo; President and CEO: Yusuke Kajimoto) announced the launch of its new manga comic app service for smartphones, Alpha Manga (https://www.alpha-manga.com/), on July 7th, 2021. The service is aimed at English-speaking users interested in reading English versions of its official manga series offered by the company's online content service AlphaPolis.
What is Alpha Manga?
Alpha Manga is an app that allows users to read English versions of its original manga series currently offered by the company's online content service AlphaPolis.
New manga content is released either weekly or monthly. The first three chapters are available free of charge. From the fourth chapter onwards, after the expiry of the free content period, further chapters will no longer be available for free; however, users can acquire in-app tickets and spend them to rent out new chapters. Users can also log in to the app and collect free bonus tickets to continue reading further chapters.
*Up to 12 bonus tickets per user.
*In addition to the free bonus tickets, users may purchase an unlimited number of tickets.
*Rental period per chapter is 7 days (168 hours). Once the rental period expires, the content is no longer available; however, users can spend their tickets to rent the chapters out again.
*This is a separate service from the existing AlphaPolis service. Users cannot log in using their AlphaPolis account, so they will need to register as a new user on the app.
Main Titles Offered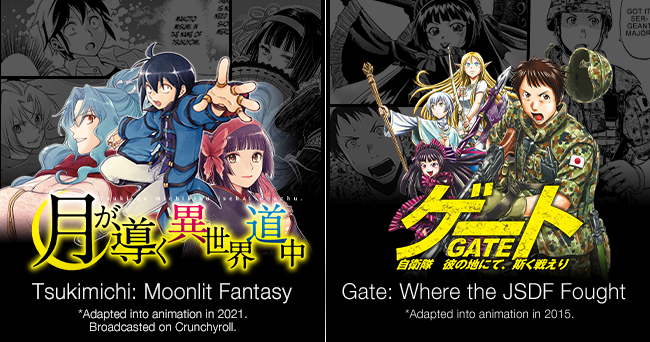 Tsukimichi: Moonlit Fantasy
*Adapted into animation in 2021. Broadcasted on Crunchyroll.
© Kei Azumi /  Kotora Kino / AlphaPolis Co., Ltd.
Gate: Where the JSDF Fought
*Adapted into animation in 2015.
© Takumi Yanai /  Satoru Sao / AlphaPolis Co., Ltd.
THE NEW GATE
Re: Monster
A Banished Odd-jobber Starts a New Life
Opening a Café in Another World
An Observation Log of My Fiancee Who Calls Herself a Villainess
May I Ask for One Final Thing?
And more…
More popular titles to be released in the future.

App Overview
App Name: Alpha Manga – Japanese Manga App
Content: Distribution of English versions of AlphaPolis Manga Comic
Language: English
Distribution Target: English-speaking users (excluding Europe)
Supported OS: iPhones running iOS14.0 or higher, iPads, and Android 6.0 or higher

AppStore Download Page:
https://apps.apple.com/us/app/alpha-manga/id1561914474
Google Play Download Page:
https://play.google.com/store/apps/details?id=com.alpha_manga.alphamanga

About AlphaPolis Co., Ltd.
Established in 2000. Capital: ¥863,824,400 (as of March 2021).
AlphaPolis Co., Ltd. is a publishing company focusing on the publication of popular works from the Internet. The company manages its AlphaPolis web site, where anyone can freely post or release their own work, including stories, manga comics, and more. A number of these works are continuing to become great hits, including "Tsukimichi: Moonlit Fantasy" "Gate: Where the JSDF Fought" and "Izakaya Bottakuri." (URL https://www.alphapolis.co.jp/)