On July 19, Japan Airlines will begin fully using facial recognition for its boarding procedures for international flights departing from Narita and Haneda airports. Passengers can enjoy a
seamless and contactless experience with "Face Express."
In April 2021, JAL participated in a successful trial of a new boarding procedure called, "Face Express " (* 2)
that utilizes facial recognition technology developed by Narita International Airport Corporation (NAA) and
Tokyo International Airport Terminal Co., Ltd. (TIAT) (* 1). This new technology will now be fully implemented
starting July 19, 2021.
(*1) NAA/TIAT Release dated March 25, 2021 『 Face Express, a new facial recognition technology for
boarding procedures at NRT and HND is coming soon, and it is a seamless and contactless experience !』
https://www.naa.jp/en/docs/20210325-FaceExpress-en.pdff
special website:https://www.narita-airport.jp/en/faceexpress/
(* 2) The name and logo of Face Express are registered trademarks of Narita International Airport Corporation.
【About "Face Express"】
Upon registering your photo of your face at one of the initial registration points at the airport, such as an
automatic check-in machine, you can proceed through the boarding procedures (check-in, checked baggage,
security check point, boarding gate) without presenting your boarding ticket or passport. This enables a smooth and safe new air travel experience, as well limits the contacts points between airport staff and passengers.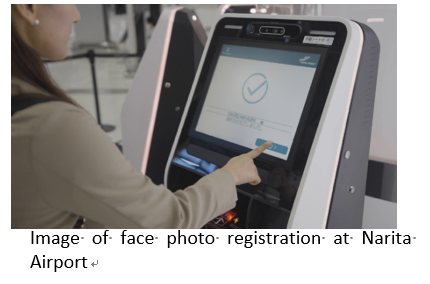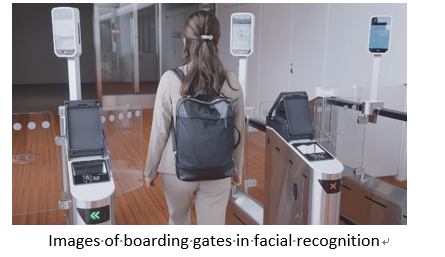 ◆Date of Start: Monday, July 19, 2021
◆Places where face photos can be registered
① Narita Airport Terminal 2: Self-service Check-in Kiosk, Self-check Baggage Drop, or Security Checkpoint
Entrance Gate
②Haneda Airport Terminal 3: Face Express registration machine
At JAL's international flights, we are taking various measures to prevent the spread of COVID-19 so that all
passengers can fly safely and with peace of mind.
【JAL Flysafe Measures】
Before departure and at the airport
✓To assist safe travel, trial of digital certificate APPs(* 3) to realize smooth overseas travel as soon
as possible
✓Thermal cameras were installed at Narita and Haneda international airports.
✓A Seamless and Contactless Experience with Face Express [*]
(* 3) IATA Travel Pass: https://www.jal.co.jp/jp/en/inter/iatatravelpass/
VeriFLY: https://www.jal.co.jp/jp/en/info/2021/inter/210416/
Lounge (Narita/Haneda)
✓Mobile ordering system that can be ordered from smartphones is available (Trial)
✓Antiviral and Anti-Bacterial coating have been completed to strengthen hygiene
Cabin
✓Antiviral and Anti-Bacterial coating have been completed to strengthen hygiene
During travel
✓All customers on JAL international flights are eligible for JAL Covid-19 Cover(* 5)
(* 5) https://www.jal.co.jp/jp/en/inter/jalcoronacover/
JAL FlySafe Measures: https://www.jal.co.jp/jp/en/info/2020/other/flysafe/?m=coe01