Digital Fashion Label 1Block starts Selling NFT Virtual Sneakers in Collaboration with atmos, a Sneaker Select Shop from Tokyo to the World
1SEC Inc. (Headquarters: Meguro, Tokyo; Founder & CEO: Hirokuni Miyaji; hereinafter referred to as "1SEC"), which bases its US operations in Los Angeles and Japan operations in Tokyo and carries out XR software development and blockchain content development and production, announces the launch of 1Block LAND, the metaverse-style marketplace based on blockchain technology, along its collaboration with atmos, the select sneaker shop operated by Text Trading Company Co., Ltd. (Headquarters: Shibuya, Tokyo; Founder & CEO: Hidefumi Honmyo; hereinafter referred to as "Text Trading Company"), for the first round of this endeavor.
[1Block LAND]
Japan's first metaverse-style NFT marketplace centered on fashion. 1Block LAND, the experience-based platform whose development is being announced, makes it possible to casually enjoy new experiences based on blockchain technology in a virtual space using a web browser on your computer or smartphone.
special website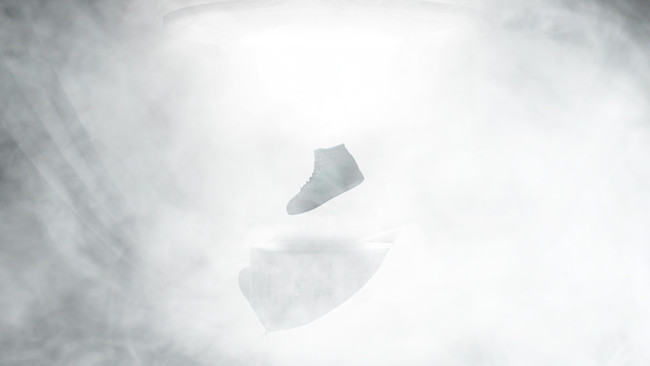 The focus for the initial phase is the shopping experience, as tenant shops will be built one after another in 1BlockLAND, making it possible to travel directly to 1Block SHOP, the NFT marketplace and make purchases using the cryptocurrency Ethereum or credit cards, and to smoothly guide customers to the marketplace through experiences inside the tenant shops that precisely reflect each exhibiting brand's worldview.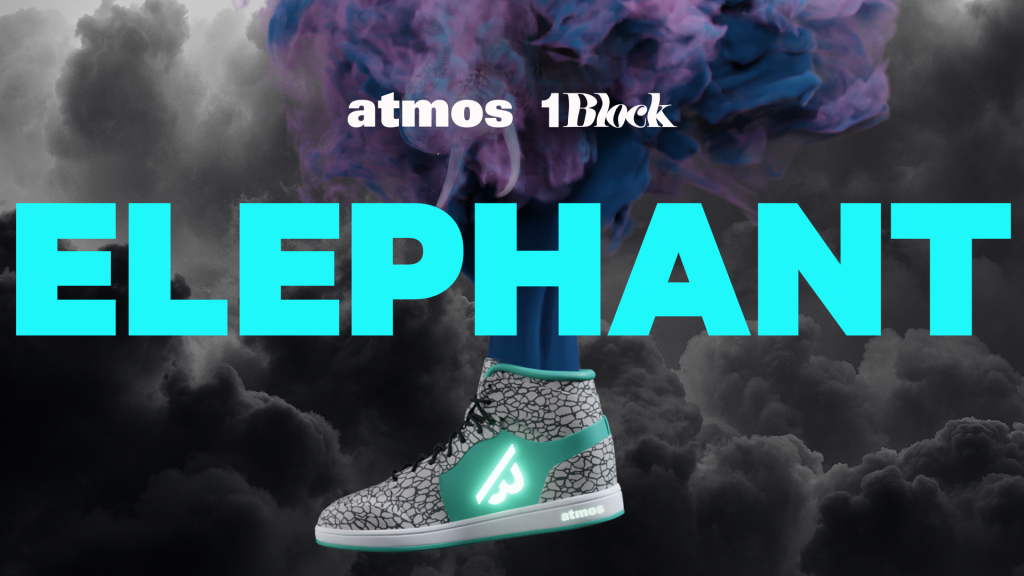 [Title]
atmos x 1Block "ELEPHANT"
[Description]
atmos First NFT (Virtual Sneakers) With the theme of "What if sneakers were given life?", and Atmos' iconic elephant design, inspiration for "ATMOS ELEPHANT" was drawn. This pair has been brought to life, and the spirit of the "ELEPHANT" is represented by the smoke that shrouds it.
[Sales]
Marketplace:
1Block Shop: https://1block.world/
OpenSea: https://opensea.io/assets/0xe988a19284cc9ed7512a7d13c61278b6eab873f8/2
Rarible:https://rarible.com/token/0xe988a19284cc9ed7512a7d13c61278b6eab873f8:2?tab=details
Unit Issued: 1 of 1
Sale Format: Auction
Auction Start Date and Time: Friday, October 8th, 2021 at 6:00 PM JST
Auction End Date and Time: Friday, October 15th, 2021 at 5:59 PM JST
Teaser Movie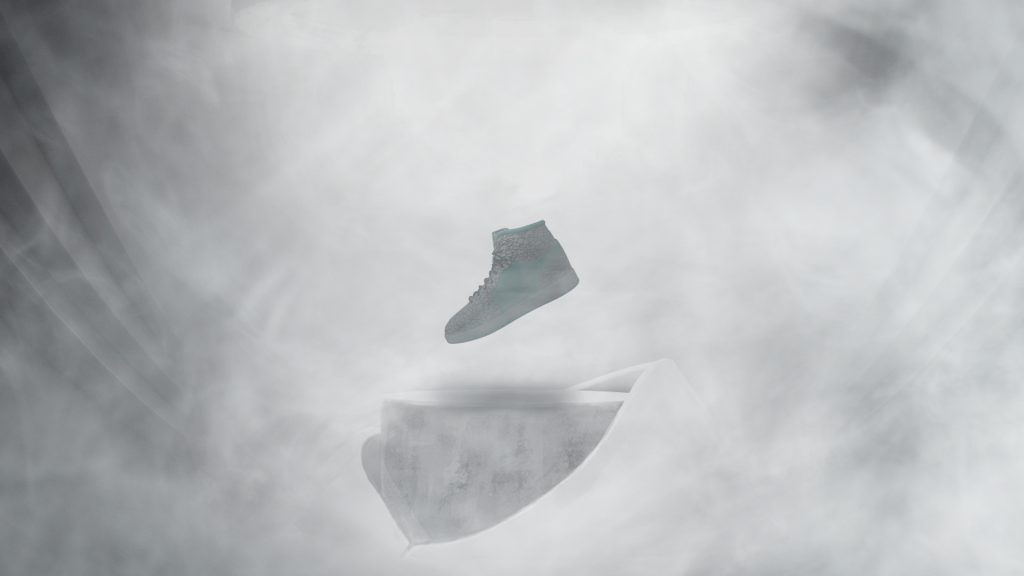 1Block, the NFT Marketplace
A digital fashion NFT marketplace developed in collaboration with CryptoGames Inc. (Headquarters: Shibuya, Tokyo; President and CEO: Kota Ozawa), which develops blockchain games and NFT services.
A digital fashion NFT marketplace.
1. An NFT marketplace equipped with an auction feature backed by WETH (Wrapped ETH). NFTs can be sold through auctions in 1Block Shop, where bidding is possible using WETH (Wrapped ETH). Through auctions, NFTs can be provided at appropriate prices, and new demand is produced as a result of catching the eyes of more people. In addition to auctions, it is also possible to sell NFTs at fixed prices.
2. Easily purchase NFTs using a credit card. It is equipped with a payment processing platform that is being used by millions of companies in over 120 countries to help support a purchasing experience that is safe and reliable. Since it is possible to purchase NFTs instantly without having to prepare cryptoassets beforehand, the purchase experience is the same as shopping on an e-commerce site.
3. Log in through social media. Since it is possible to log in through Google, LINE, Twitter, Discord, and other social networking services, people who have never owned NFTs can also use the platform casually.
How to Purchase WETH
https://medium.com/@1blocknft/faq-a97349226c7d
About 1Block
1Block is Japan's first digital fashion label built around 3DCG. The label carries out integrated production involving the development of digital fashion and content using the latest technologies, such as 3DCG and blockchain. It will collaborate with various creators and media moving forward.
Instagram: https://www.instagram.com/1block.official/
Twitter: https://twitter.com/1block_official
About atmos
The shop's name of atmos is derived from the word atmosphere, reflecting the shop's desire for its existence to be natural in the same way that the atmosphere exists naturally. In 2000, atmos opened its flagship store in Harajuku, Tokyo. A sneaker wall based on the theme of sneakers as a form of fashion was set up inside the store. Shares Tokyo's sneaker culture with the world, such as through collaborations and exclusive models with national brands, as well as test launches and marketing of the latest products.
<Company Overview>
Name: Next Trading Company, Co., Ltd.
Address: 2-31-1 Jingumae, Shibuya, Tokyo
President: Hidefumi Honmyo
URL: https://www.atmos-tokyo.com/contents/company
Email: inquiry@atmos-tokyo.com
About 1SEC Inc.
Carries out software development, with a focus on XR, and blockchain content development and production based on the slogan of empowering people and companies around the world. Founded the digital fashion label 1Block. The label's first endeavor was Japan's first NFT virtual sneaker, which sold out for 5 Ethereum (approximately 1,400,000 JPY) within 9 minutes of becoming available in North America, attracting attention from around the world.
<Company Overview>
Name: 1SEC Inc.
President: Hirokuni Miyaji
Address:
[US] 1541 Ocean Avenue, Santa Monica, CA, US [Japan] 6F 1-6-13 Ohashi, Meguro, Tokyo
Established: January 2019
Capital: 277,460,000 JPY