On October 21, 2021, MEGASOFT Inc., a Japanese Architectural software development company, launched a new service called "Virtual Tour of Japanese Architecture" on its website "Archi Designer JAPAN". "Archi Designer JAPAN" is an informational website about Japanese architectural design.
With this service, you can explore remarkable architectures all over Japan one after another.
Since 2009, MEGASOFT has researched and collected more than 1000 buildings' information on their own, and now this database is going to share this information with the public. It starts with 100 buildings and will be added to daily in the future. This site includes;
Japanese architects who are active on-site and at the forefront. Tadao Ando, Kenzo Tange, and Fumihiko Maki, who are winners of the "Pritzker Prize", which is said to be the Nobel Prize in the architectural world. Kengo Kuma, who designed the national stadium for the Tokyo 2020 Olympics, etc.
Non-Japanese architects such as Frank Lloyd Wright and Le Corbusier in Japan are also included.
MEGASOFT is a Japanese software development company whose flagship product is 3D housing construction design software.
In April 2021, MEGASOFT launched the website "Archi Designer JAPAN" which disseminates Japan's unique living culture and architectural design to the world by making use of its abundant information and knowledge on Japanese architectural design.
Besides "Virtual Tour of Japanese Architecture", free 3D materials and images of Japanese-style design are available for free, and a series of interviews with Japanese architectural professionals and designers are included as well.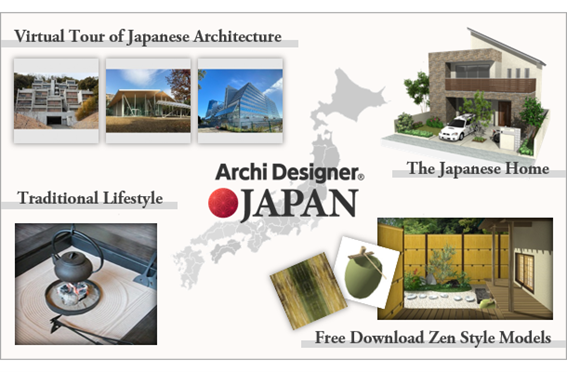 Company Profile: MEGASOFT Inc. was founded in Osaka, Japan in 1983 as a software company. MEGASOFT strives to improve usability, promoting software development that delivers "Convenience," "Comfort," and "Impression" to everyone.
Head Office: Umeda Center Bldg., 2-4-12, Nakazaki-Nishi, Kita-ku, Osaka 530-0015, Japan