MUTAN Inc.(CEO: Hiroyuki Watanabe) has updated "Goonya Monster" for Steam(R), Nintendo Switch TM and PlayStation(R)5 on February 1, 2023 at 00:00(JST).
We are pleased to announce the start of a new season, Episode 2, featuring a new character, Anemone (Character Voice: Akari Kito), as well as the addition of new stages and monsters. We are also pleased to announce the release of a roadmap outlining our future update policy.
This title is a "3vs1 asymmetrical party game" played by three "busters" and one "monster". The theme song is by "FAKE TYPE. feat. super students" and the characters are designed by the popular illustrator "Terada Tera".

This season, Episode 2 opens with new elements
Two new monsters and one map will be implemented into this update.

Monster: Baby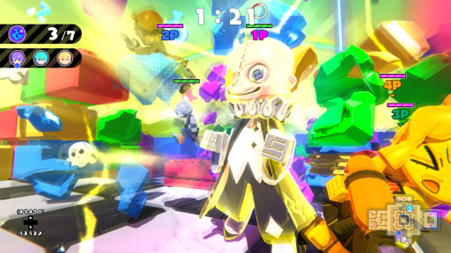 Skill: Gyan Crying
Screams loudly to paralyze nearby busters!

Monster: Balloon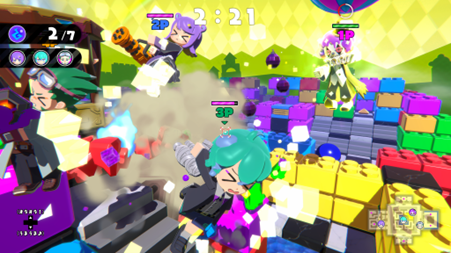 Skill: Balloon Levitation
Floats on a large balloon and drops bombs from the sky!
Bouncing on a jump platform, moving at high speed on a conveyor belt, and other gimmicks that expand the ways to fight, the "Toy Factory" is full of new features.

In addition, a new character, "Anemone," will appear in the implemented storyline.
Anemone" is a mysterious scientist (a mad scientist) who is human but manipulates the undead and antagonizes Buster. She is usually calm, but when it comes to her research, she shows her crazy side. She was working on a special research project that was halted due to opposition from those around her… Her purpose will be told in the story that will be released by playing "Episode Match" in the future.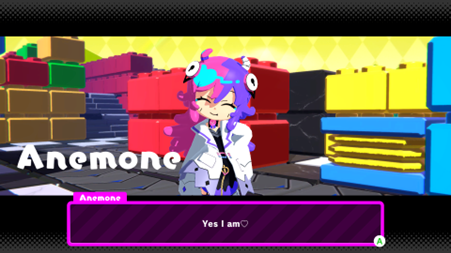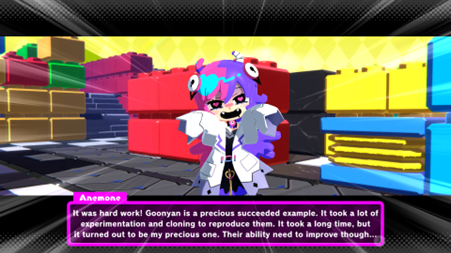 A Promotion Video introducing the contents of the update is also available.
Please check it out.
Goonya Monster Nyusu vol.4: https://youtu.be/R2byWh68xaI

A roadmap summarizing the future update policy is now available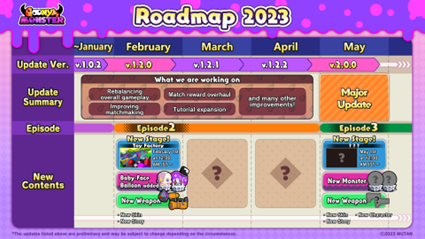 We will continue to regularly update "Goonya Monster" with new characters and episodes for your enjoyment. We will also adjust the balance and improve the playing environment based on the feedback we have received.

Packaged version for Nintendo Switch will be available
Due to popular demand, "Goonya Monster" will be released as a packaged version for Nintendo Switch. The release date, limited edition information, and other details are yet to be determined. This will be announced at a later date.

"Goonya Monster" Product information
Genre: 3vs1 asymmetrical party game
Player: 1 to 4 players
Platform: Steam(R), Nintendo Switch TM, PlayStation(R)5
Release date: December 4, 2022
Latest PV: https://www.youtube.com/watch?v=XQK_YgcmhwU
Official Twitter: https://twitter.com/GoonyaJP
Official website: https://gnmonster.mutan.co.jp/
Character Design:Tera Terada
Theme song: FAKE TYPE. feat. super students "GO ON YA WAY
MV:https://www.youtube.com/watch?v=h1B2Ph5SewQ
Voice Cast
Octo: Sho Nogami
Snail: Rikako Aida
Pirarucu: Fayrouz Ai
Toad: Tomokazu Sugita
Guunyan: Shiori Izawa
Anemone: Akari Kito

Notice:
The information in the press release is current as of the date of the announcement. Please note that the information in this press release is subject to change without notice.
The images in this release are from the development phase. They may differ from the actual play screen.
PlayStation" and "PS5" are registered trademarks or trademarks of Sony Interactive Entertainment Inc.
The Nintendo Switch logo and Nintendo Switch are trademarks of Nintendo.
*"Steam" and the Steam logo are trademarks or registered trademarks of Valve Corporation in the United States and/or other countries.