Omnis Inc. (HQ: Minato-ku, Tokyo; CEO: Toru Ueda) announces the launch of the "AI Fashion Challenge", the world's first fashion contest to create future fashion designs using generative AI, on April 1, 2023 on its AI fashion platform "OpenFashion a first-of-its-kind fashion contest that uses generative AI to create the fashion designs of the future. The total prize money is $4,000, and anyone can participate by simply posting their AI-generated fashion design on Twitter. For more details, please see the event outline.
"OpenFashion" launched on March 14 as an AI fashion platform for developing various fashion-related services and brands, utilizing the latest technologies such as generative AI, virtual fashion, and web3.
And the AI Fashion Challenge, a fashion contest currently being held at OpenFashion, aims to explore the possibilities of fashion design using generative AI and open up a new world of fashion. With AI technology advancing at a remarkable pace, it is now possible for anyone to easily express their own unique design without having to possess any technology by utilizing AI image generation services such as "Midjourney". This contest will utilize these latest technologies to generate designs, making it easy for anyone to participate.
It is expected that AI will propose new materials and designs for future fashion by utilizing the sensibilities that humans do not possess, and the designs created through AI will have a unique beauty different from those created through conventional manual work. We look forward to the birth of futuristic designs created through AI from all participants, as well as innovative and beautiful fashion designs that make full use of materials.
Examples of works (all created by Midjourney)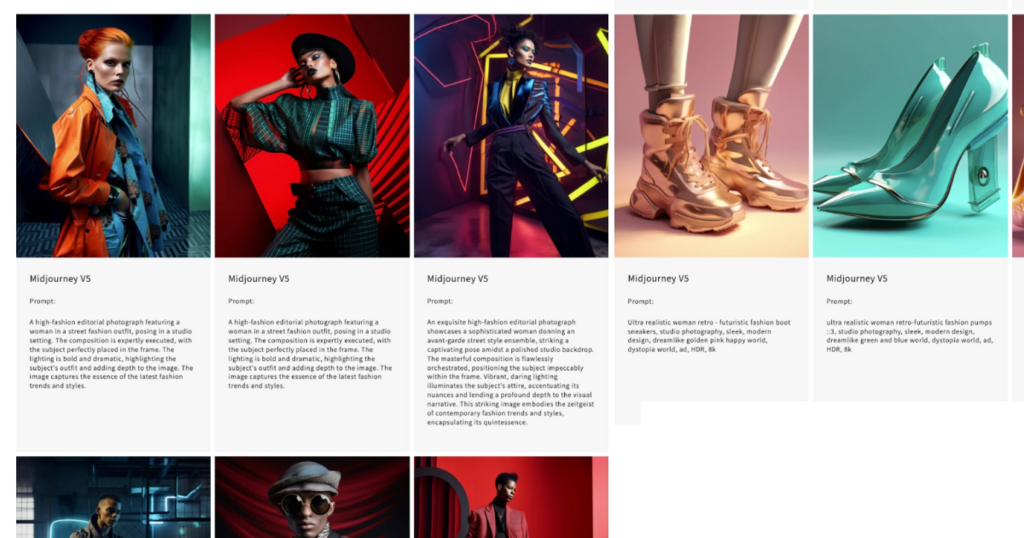 Prompts for examples of this work are now available on the contest's special website.
"AI Fashion Challenge" special site
"AI Fashion Challenge" Contest Outline
Period: April 1 (GMT 0:00) – April 30 (GMT 24:00)
*GMT Greenwich Mean Time
Target AI models: Stable Diffusion 1.5, Stable Diffusion 2.1, Midjourney v4, Midjourney v5
Items:Realistic, 3D design including clothing, shoes, bags, or accessories
Prizes: $4,000 total
1st to $1,500, 2nd to $1,000, 3rd to $500, 4th to $300, 5th to $200, 6th to 10th to $100 each
Judging Method
Rankings will be made in order of the number of "likes" received on Twitter during the period.
Cautions
Illustrations and NSFW (Not safe for work) are not eligible.
Other entries that are deemed by the management to be out of line with the purpose of the contest will be disqualified.
You may submit as many entries as you like during the contest period.
One entry per submission is allowed.
How to participate
1) Follow one of the official "OpenFashion" Twitter accounts below
English: https://twitter.com/OpenFashion_en
Japanese: https://twitter.com/OpenFashion_jp
2) RT (retweet) one of the following designated tweets
English: https://twitter.com/openfashion_en/status/1641982123006660609
Japanese: https://twitter.com/openfashion_jp/status/1641979594256580609
3) Create your design with AI image generation service
4) Post your design on Twitter with the following two tags
#aifashionchallenge
#openfashion
Conditions of Participation and Points to Note
Only those who agree to the following will be awarded the prize money upon winning the prize.
You must be able to share the prompts with the management after winning the prize, and the management must be able to verify that the prompts are reproducible to some extent.
The winning prompt must be able to be published on OpenFashion, the AI Fashion Challenge blog, and social networking sites.
Prize money will be sent via wise.com
Contact Us
If you have any questions, please contact us using the inquiry form below.
https://fashionchallenge.ai/pages/contact
What is OpenFashion?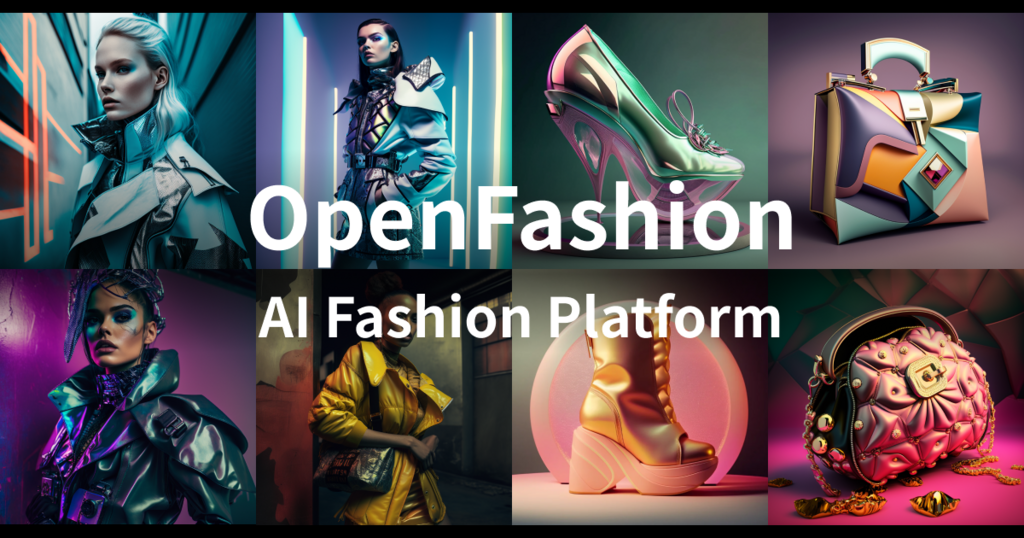 OpenFashion is a platform for developing fashion-related services and brands using the latest technologies such as generative AI, virtual fashion, and web3. OpenFashion is a platform for the development of fashion services and brands using the latest technologies such as generative AI, virtual fashion, web3, and more.
What is OpenFashion SHIN JIDAI?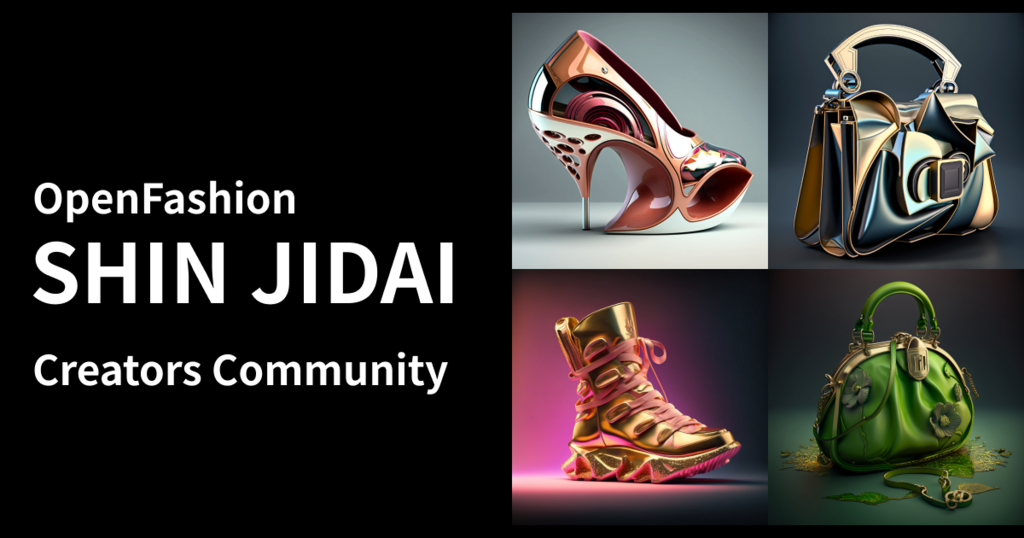 OpenFashion SHIN JIDAI is a global community service dedicated to the fashion industry. We publish the latest generative AI applications in the fashion industry in articles exclusively for the community. Please register as a free community member to see behind the scenes of the fusion of technology and fashion.
https://open-fashion.com/pages/openfashion-shin-jidai-community
Brands & Services to be Offered
OpenFashion will be offering several services that combine the latest technology and fashion, as well as contest-style events with great prizes.
accelerando – AI fashion brand
accelerando is a fashion brand that creates new collaborations through the interaction of three different brand concepts: an AI fashion brand, a virtual fashion brand, and an open source brand.
MaisonAI – AI fashion tool
MaisonAI is an AI support tool developed to assist product planning, production, sales, promotion, and marketing in the fashion business. Generative AI automatically generates text and images to provide powerful business support. It will be available as both cloud and open source software.
Official SNS
OpenFashion Twitter
https://twitter.com/openfashion_en
OpenFashion Instagram
https://www.instagram.com/openfashion_insta/
Omnis is committed to further boosting and developing the fashion industry in the future through the fusion of the latest technology and fashion, while at the same time providing users with a place for self-expression.