Enables a more playable and dynamic gaming experience!
MUTAN Corporation (Tokyo, CEO: Hiroyuki Watanabe) is pleased to announce the release of ver. 2.0.0 of "Goonya Monster" for Steam®, Nintendo Switch™, and Playstation®5 with a major update and many new elements. This new version will be released on June 16, 2023 at 12:00 JST.
In order to improve the gaming experience to a more dynamic way, we have added and adjusted more than 200 items by tweaking the game down to its very roots.
[Goonya Monster official website] https://gnmonster.mutan.co.jp/
Updates 1
Buster is more comfortable to operate!
Improved weapon handling and block trapping, etc., greatly reducing the frustrations during character operation! While retaining the traditional gameplay in which coordination between busters is the key, players can now move around more freely and independently.
The addition of Aim Assist makes it easier to defeat the undead! More of the same weapon types now have a completely different feel.
The gaps of one square, which were difficult to move through, and the physical behavior-specific traps that were in the way of jumping have been reduced, allowing the smoother movement!
In addition to the automatic resurrection on countdown, which happens faster if toched by a fellow player, homing kicks and ghost attacks have also been added! It is now easier to move while still retaining the importance of coordination.
Alerts are now displayed to warn of approaching monsters! Moreover, icons have been added to keep track of the location of undead and soul pods.
Updates 2
Monsters became more dynamic!
The fun of rampaging has been doubled, with the addition of actions such as predation to make them huge or blow away busters! The changes are now visually more obvious, making them easier to handle even for beginners.
The more it preys, the bigger it gets and the more powerful it becomes! At maximum size, the player can destroy blocks just by bumping into them, and the time it takes to prey on them is also shortened!
Punch and prey on the buster to blow it away! Blowing up busters destroys blocks and sends them flying off-stage… The exhilaration of a huge rampage has been greatly increased.
Monsters are now designed not to kick! Now you can chase the buster anywhere without being blocked by obstacles.
You can jump higher now! Use your quick mobility to chase down busters!
Updates 3
There are many effects to make the most of the charm of the characters!
In addition, we have added many new effects to fully enjoy the "characters" that are one of the charms of this title. We have also implemented stamps, login bonuses, and other elements that make daily gaming more fun.
You can now see everyone's customizations at the start of battles! We have enhanced the fun of acquiring skins by increasing the opportunities to show off your customizations.
The new "praise" feature has been added to praise players who have performed well! This will increase the feeling of victory and motivate players to play.
More than 30 types of rewards have been added to reward gameplay! Every move you make in the game will now be recognized.
Rewards are also connected to results. Gems, which were previously difficult to obtain, are now available the more you play, and we have made improvements to reduce gear disparities.
Updates 4
The story will be unlocked by collecting stamps! You can also get coins and gems.
Added a login bonus that allows you to play the gacha once a day! You can expand your customization by continuing to do so every day.
Please see images for other Updates.
About Goonya Monster
Goonya Monster is a 3vs1 asymmetrical party game in which players are divided into three busters and one monster. Busters fight with their unique weapons and monsters with their powerful skills, aiming to achieve the victory conditions. The theme song is by "FAKE TYPE. feat. Chogakusei" and the characters are designed by popular illustrator Terada Tera.
Product Information
Title: Goonya Monster
Genre: 3vs1 asymmetrical battle game
Player: 1 to 4 players
Platforms:
Steam(R), Nintendo Switch(TM), PlayStation(R)5
Release date: December 4, 2022 (on sale)
Price:
Normal download version: 1,800 yen (1,980 yen including tax)
Digital DX Version] 2,709 yen (2,980 yen including tax)
Supported languages:
Japanese / English / Chinese (traditional and simplified) / Korean
Official website: https://gnmonster.mutan.co.jp/
Steam Store: https://store.steampowered.com/app/1662080/
Nintendo Store:https://store-jp.nintendo.com/list/software/70010000050262.html
PlayStation Store: https://store.playstation.com/ja-jp/concept/10004710
PV:
Twitter: 
Character Design: Tera Terada
Theme song:
FAKE TYPE. feat. Chogakusei
GO ON YA WAY
Pre-orders for the packaged version with luxurious perks are now being accepted at Amazon and other retailers.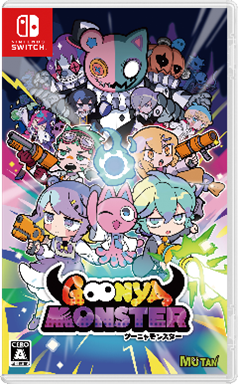 The bonus soundtrack for the packaged version to be released on July 13 will include "GO ON YA WAY" sung by FAKE TYPE. feat. super students, as well as "ZITABATA (Goo-Nyan ver.)" written by the popular three-piece rock band SAKANAMON. Don't miss out on the music that you can only get here!
Please check the official website for the store exclusive pre-order bonus and make a pre-order.
About Goonya Monster: Packeged version
Release date: July 13, 2023
Compatible consoles: Nintendo Switch TM, Playstation(R)5
Price:
Normal Edition 3,500 yen (3,850 yen including tax)
Limited Edition 6,980 yen (7,678 yen including tax)
Languages Supported: Japanese / English / Chinese (traditional and simplified) / Korean
Bonus contents:
Normal Edition DLC
Limited Edition DLC, special art book, soundtrack CD, Goo-nyan ball chain mascot
Reservation site: https://gnmonster.mutan.co.jp/package.html (Japanese Only)
Notice:
The information in the press release is current as of the date of the announcement. Please note that the information in this press release is subject to change without notice.
The images in this release are from the development phase. They may differ from the actual play screen.
PlayStation" and "PS5" are registered trademarks or trademarks of Sony Interactive Entertainment Inc.
The Nintendo Switch logo and Nintendo Switch are trademarks of Nintendo.
*"Steam" and the Steam logo are trademarks or registered trademarks of Valve Corporation in the United States and/or other countries.